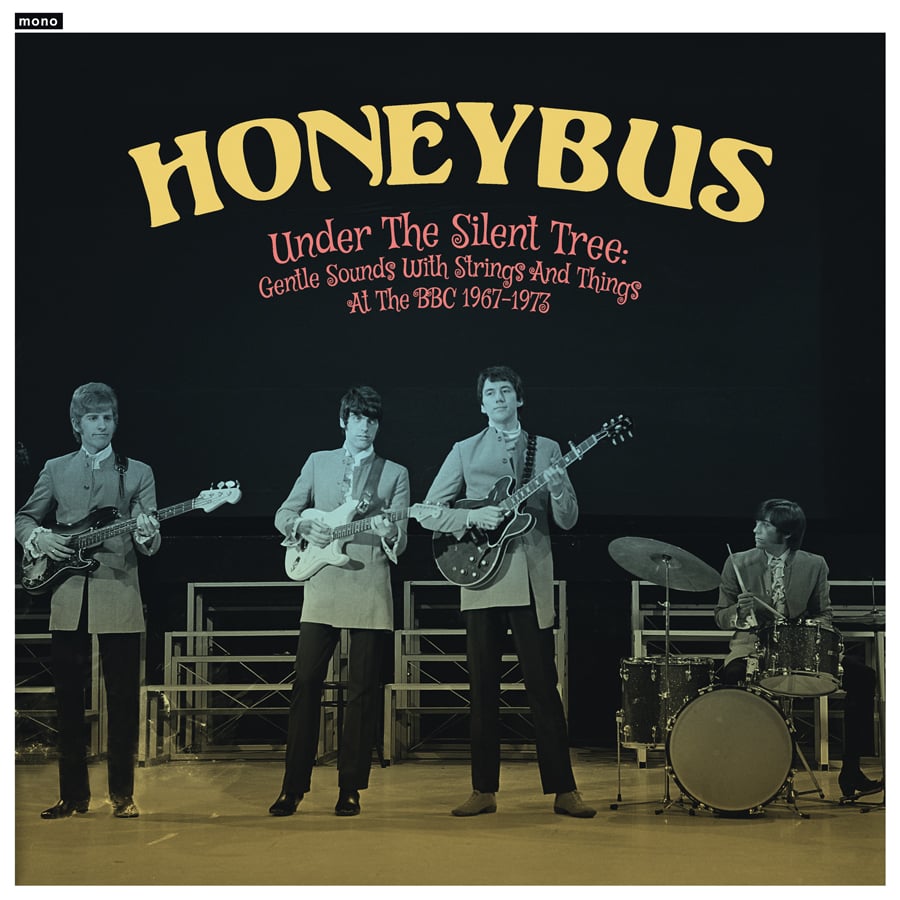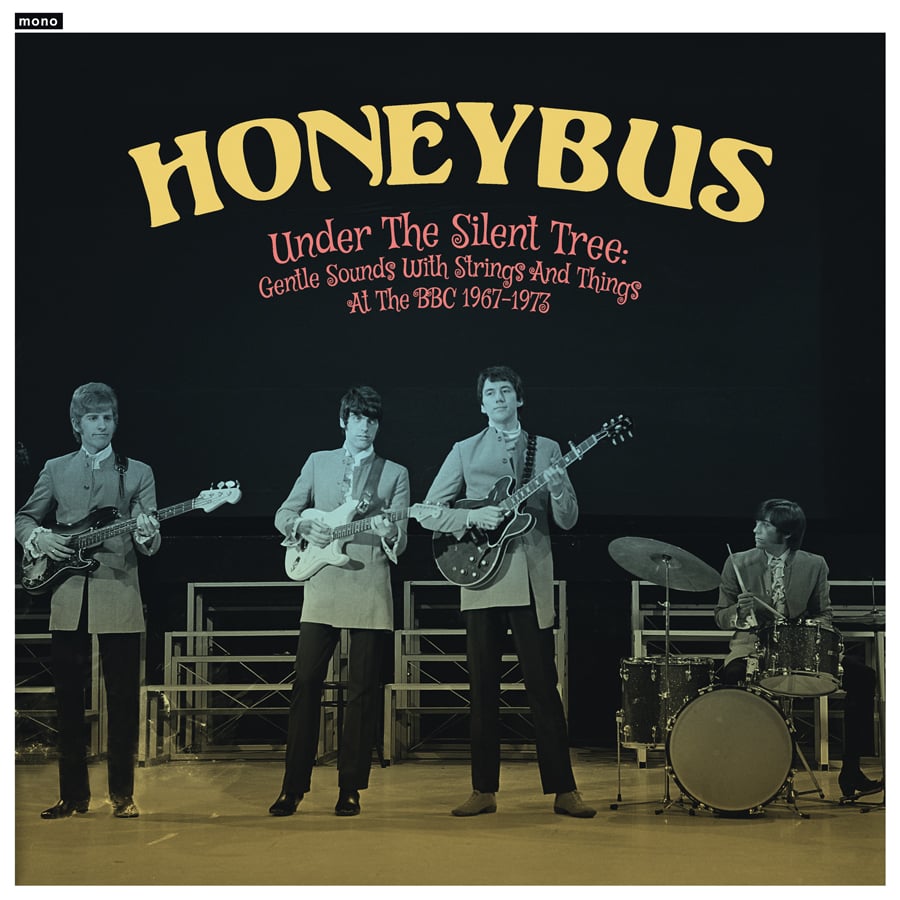 HONEYBUS Under The Silent Tree: Gentle Sounds With Strings And Things At The BBC 1967-1973 (Bundle)
by Colin Hare , Honeybus , and Pete Dello ,
€45.00
HONEYBUS -Under The Silent Tree: Gentle Sounds With Strings And Things At The BBC 1967-1973 -
(HPR-066)
Release date: May 19, 2023
*** Pre-order now // Preventa ya disponible *** (All pre-orders will start shipping the last week of April -- Todos los prepedidos empezaran a enviarse la última semana de abril)
SPECIAL BUNDLE DEAL!!! 2LP & 2-CD sets for a VERY SPECIAL REDUCED PRICE - SAVE ON SHIPPING COSTS TOO!!
- For the first time, all the known surviving recordings collected on double LP (28 songs) and double CD (41 songs). All, except 7 tracks, previously unreleased.
- Includes 10 original songs (14 on the 2CD version) the band never properly recorded in the studio.
- Compiled by Andrew Sandoval. Notes by Andy Morten (Shindig! magazine)
- Comes with free poster (2LP version)
Over the course of their stop-start five years together, Honeybus ventured into the BBC studios on a dozen occasions, leaving a catalogue of recordings that mirrored their latest releases as well as offering up a fascinating alternate history. The songs that make up 1970's much-loved "almost didn't happen" Story album (reissued by Hanky Panky/Mapache in 2018, along with the rest of the group's output) began appearing as early as the summer of 1968. The likes of 'Scarlet Lady', 'Black Mourning Band' and 'Under The Silent Tree' appear almost fully-formed, played as ensemble pieces, suggesting that their album counterparts were captured quickly and without fuss during snatched studio sessions throughout late 1968 and 1969. They also demonstrate Honeybus's often overlooked skills as a live unit – BBC sessions notoriously allowed little scope for re-takes or overdubbing; you went in and you laid it down while the men in white coats watched the clock.
Thrilling as it is to finally hear these alternate versions of familiar Honeybus cornerstones, it's the surfeit of otherwise unrecorded material that's the most startling revelation here. Under The Silent Tree: Gentle Sounds With Strings And Things At The BBC 1967-1973 presents no less than 10 unique Honeybus songs (plus a further four on the CD version only) that virtually constitute an entire second album's worth of unheard material.
We find ourselves in a kind of musical hall of mirrors, revelling in a whole new perspective on one of the last great cult pop groups of the '60s, where every track offers a fresh outlook, a fresh thrill, a fresh sound. With strings and things.
// Castellano //
- - Por primera vez, todas sus grabaciones conocidas reunidas en doble LP (28 canciones) y doble CD (41 canciones). Todas inéditas. (excepto 7 canciones)
- Incluye 10 canciones originales (14 en la versión 2CD) que la banda nunca grabó en estudio.
- Recopilado por Andrew Sandoval. Notas de Andy Morten (Shindig! magazine)
En el transcurso de sus cinco años juntos, Honeybus se aventuró en los estudios de la BBC en una docena de ocasiones, dejando un catálogo de grabaciones que reflejaba sus últimos lanzamientos a la vez que ofrece una fascinante historia alternativa. Las canciones que componen su clásico álbum Story de 1970 (reeditado por Hanky Panky/Mapache en 2018, junto con el resto de la producción del grupo) comenzaron a aparecer ya en el verano de 1968. Canciones como 'Scarlet Lady', 'Black Mourning Band' y 'Under The Silent Tree' aparecen ya completamente formadas, tocadas como piezas de conjunto, lo que sugiere que sus contrapartes del álbum fueron capturadas rápidamente y sin problemas durante esporádicas sesiones de estudio a finales de 1968 y 1969. También demuestran las habilidades a menudo pasadas por alto de Honeybus como grupo en vivo: las sesiones de la BBC dejaban poco margen para retoques o overdubs, mientras los técnicos con sus batas blancas miraban el reloj.
Pero, por emocionante que sea finalmente escuchar estas versiones alternativas de las piezas fundamentales de Honeybus, es el exceso de material no grabado en estudio lo que es la revelación más sorprendente aquí. Under The Silent Tree: Gentle Sounds With Strings And Things At The BBC 1967-1973 presenta 10 canciones únicas de Honeybus (más otras cuatro en la versión CD) que prácticamente constituyen todo un segundo álbum de material inédito.
Nos encontramos en una especie de salón de espejos musical, deleitándonos con una perspectiva completamente nueva de uno de los últimos grandes grupos pop de culto de los años 60, donde cada tema ofrece una nueva perspectiva, una nueva emoción, un sonido nuevo. Con cuerdas y esas cosas.
*********************************
** Important note: As no tapes could be found at the BBC archives, these recordings come from the best available sources. Some deficiencies in the source may be evident on a few songs. This is especially evident on the "Special Extra Tracks" included on CD 2 of this collection, on which the audio source is of notoriously inferior quality to that of the rest of the collection. It was felt though, that the importance of these historical recordings more than compensates for any master tape imperfection.
Tracklisting:
SIDE ONE
1.- Pete Dello Interview
2.- (Do I Figure) In Your Life (Dello)
(Recorded November 15, 1967)
3.- Like An Old Time Movie (Phillips)
(Recorded November 15, 1967)
4.- Maxine's Parlour #1 (Fay)
(Recorded November 15, 1967)
5.- Arise Sir Henry (Dello)
(Recorded November 15, 1967)
6.- I Can't Let Maggie Go (Dello)
(Recorded February 7, 1968)
7.- She Comes To Me (Hare)
(Recorded February 7, 1968)
8.- Ain't That Just Bonnie For You (Dello)
(Recorded February 7, 1968)
9.- Goin' Back (Goffin/ King)
(Recorded February 7, 1968)
SIDE TWO
1.- Francoise (Dello)
(Recorded February 7, 1968)
2.- Ray Cane Interview
3.- Girl Of Independent Means #1 (Cane)
(Recorded August 27, 1968)
4.- Scarlet Lady (Hare)
(Recorded August 27, 1968)
5.- How Long (Kircher/ Cane/ Hare)
(Recorded August 27, 1968)
6.- Black Mourning Band (Cane)
(Recorded December 16, 1968)
7.- Ray Cane Interview
8.- She Sold Blackpool Rock (Cane)
(Recorded December 16, 1968)
SIDE THREE
1.- My Suzanne (Cane)
(Recorded April 23, 1969)
2.- Too Long # 1 (Cane)
(Recorded April 23, 1969)
3.- Ray Cane Interview
4.- Fresher Than The Sweetness In Water (Cane)
(Recorded September 12, 1969)
5.- Walking Aphrodisiac #1 (Hare)
(Recorded September 12, 1969)
6.- You Live Good Life (Cane)
(Recorded September 12, 1969)
7.- Walking Aphrodisiac #2 (Hare)
(Recorded February 18, 1970)
8.- Ceilings No. 2 (Cane)
(Recorded February 18, 1970)
SIDE FOUR
1.- Story (Cane)
(Recorded February 18, 1970)
2.- Broken Wings (Cane)
(Recorded September 23, 1970)
3.- Go Away (Dello)
(Recorded September 23, 1970)
4.- DJ Intro
5.- She's A Lady (Hare)
(Recorded October 2, 1972)
6.- The Lady's Not For Burning (Dello/ Hare)
(Recorded October 2, 1972)
7.- DJ Intro
8.- For You (Dello)
(Recorded March 14, 1973)
9.- Be Thou By My Side (Cane)
(Recorded March 14, 1973)